Quality Control & Quality Assurance
Ensuring Safety and Integrity in All That We Do
At AX Pharmaceutical Corp, we integrate quality and safety into every step of our process.

Fully-licensed and inspected by both Health Canada and the FDA, our Drug Establishment License (DEL) ensures that our growing list of APIs are sourced from reliable, compliant and cGMP-certified manufacturers only.

With a vast inventory of raw materials stored in temperature and humidity-controlled environments, we ensure that our products are shipped using compliant, tested and verified shipping methods.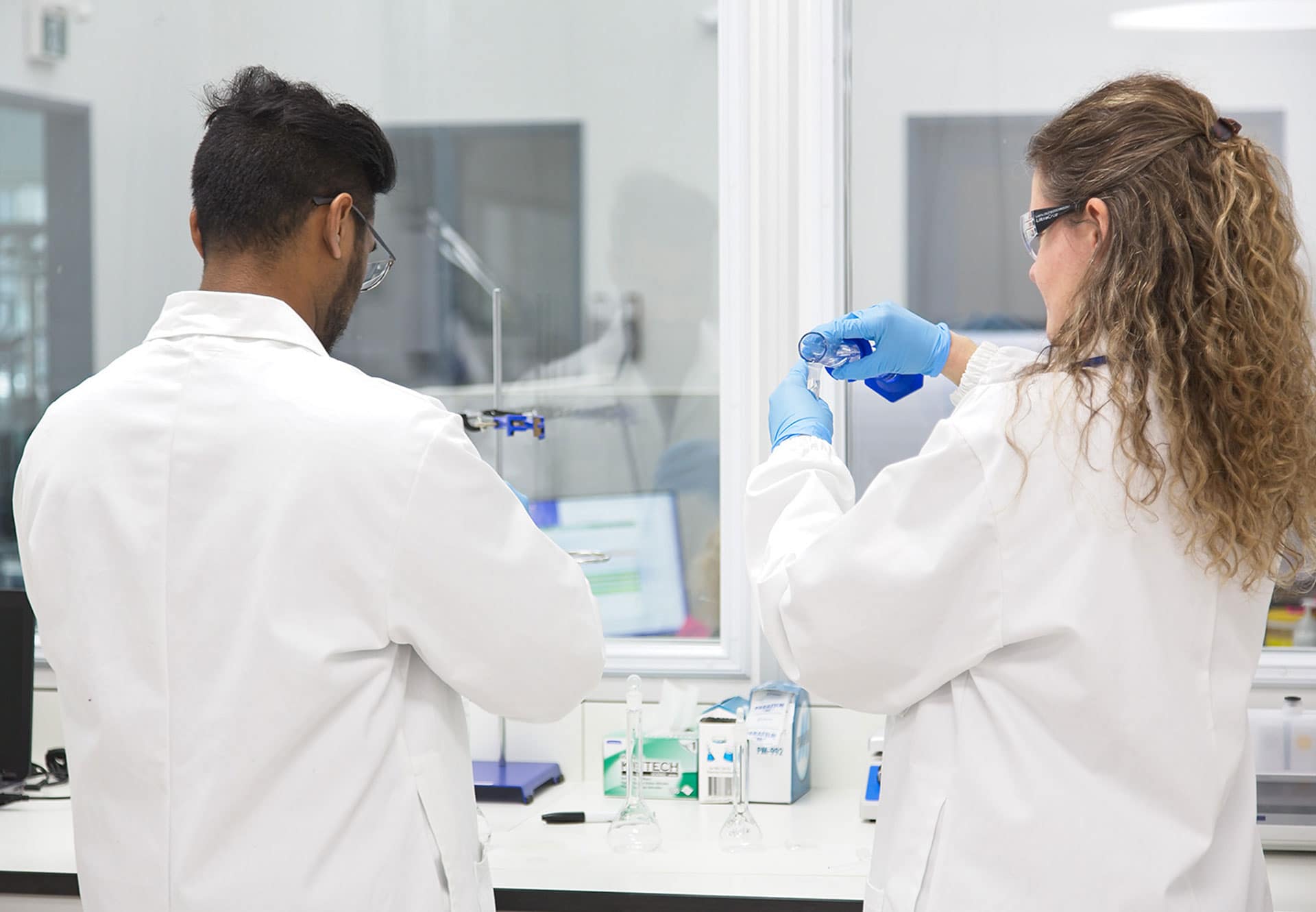 Quality Control
From manufacturing to retail, our QC specialists are committed to successfully delivering high-quality, safe, and effective API products to our customers.

After stringent physical inspections, sampling, testing and verified results - our products will undergo inspection by our Quality Control (QC) department to ensure that they adhere to our strict quality requirements for distribution.
Quality Assurance
Our Quality Assurance (QA) specialists are responsible for auditing each of our onboarded manufacturers to ensure complete compliance and reliability.

Once a tested product has been inspected by the Quality Control (QC) department, our Quality Assurance specialists will conduct a final inspection to ensure that the safety and quality requirements of each product have been achieved.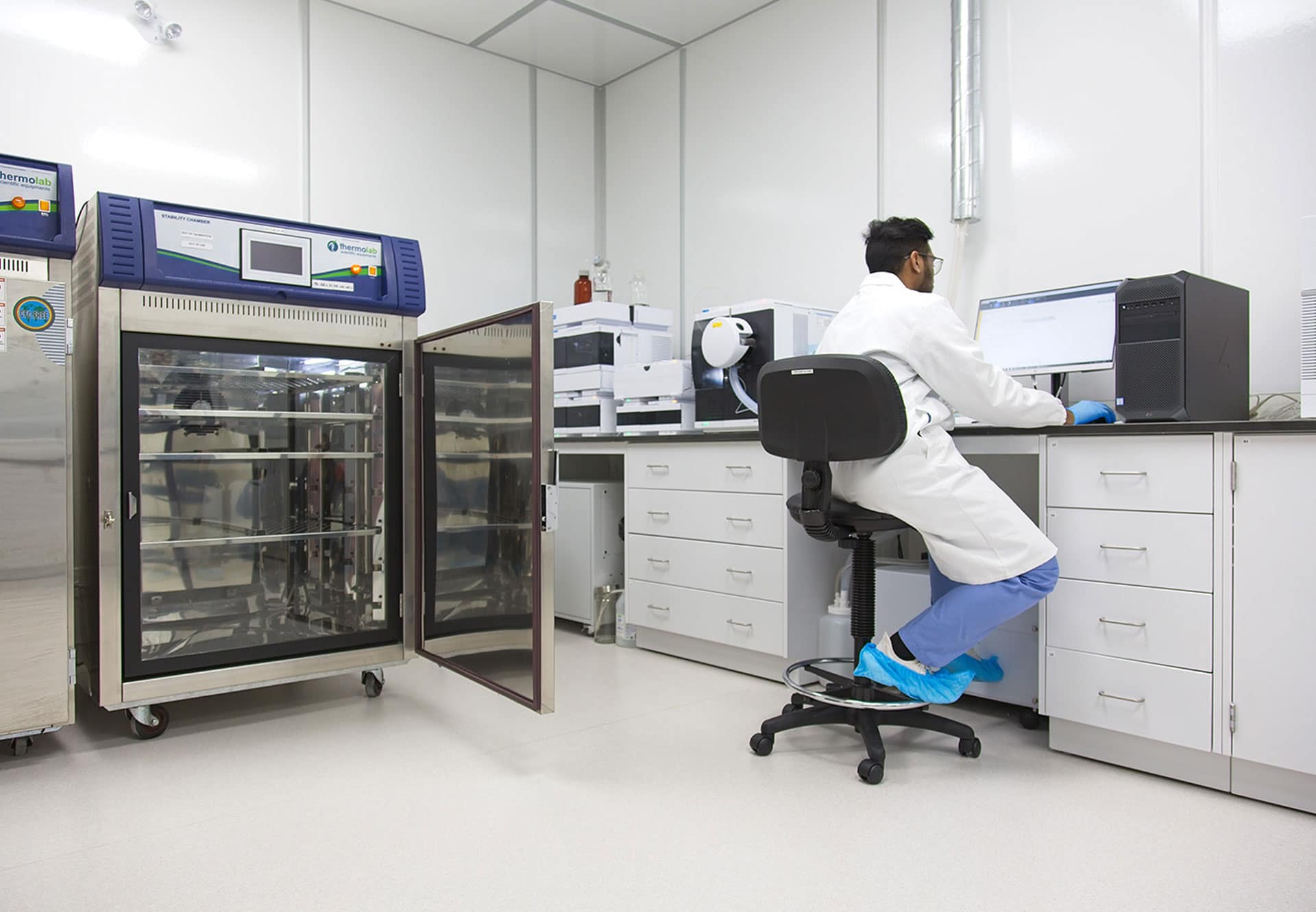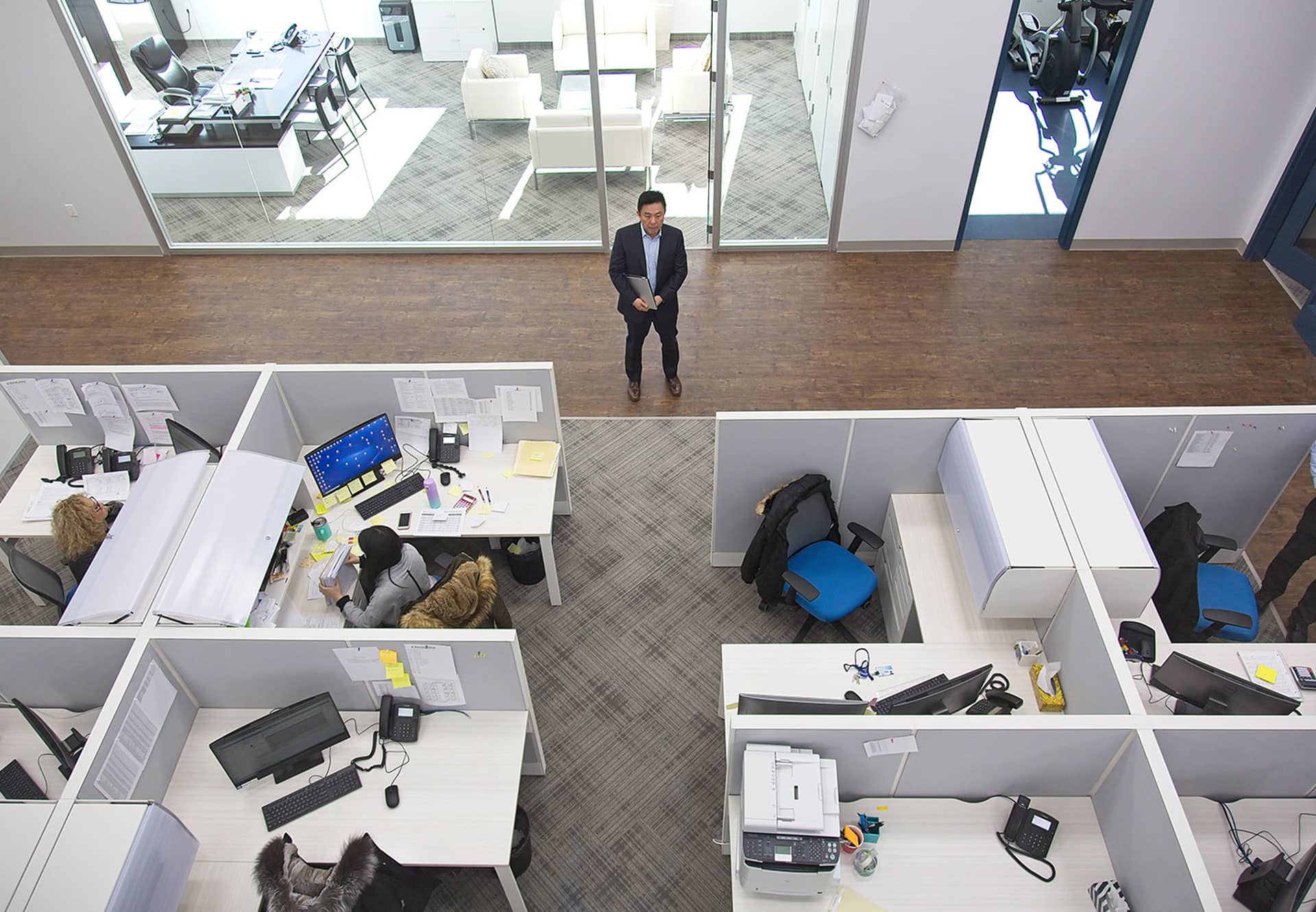 Our Facilities
Our facilities are fully-licensed, technologically-advanced and carefully-designed to reinforce our commitment to high-quality products and services.

Equipped with two certified ISO Class 7 clean rooms with HEPA filtered airflow systems, a separate quarantine area for all incoming materials and an advanced inventory system, our APIs are available for shipping by the following business day.
Our Equipment
We regard every project, every sample and every analysis as an opportunity to earn our customers' trust and respect.

To ensure the quality, safety and integrity of our active pharmaceutical ingredients (APIs), we utilize a variety of advanced laboratory equipment and procedures to ensure superior value in product testing.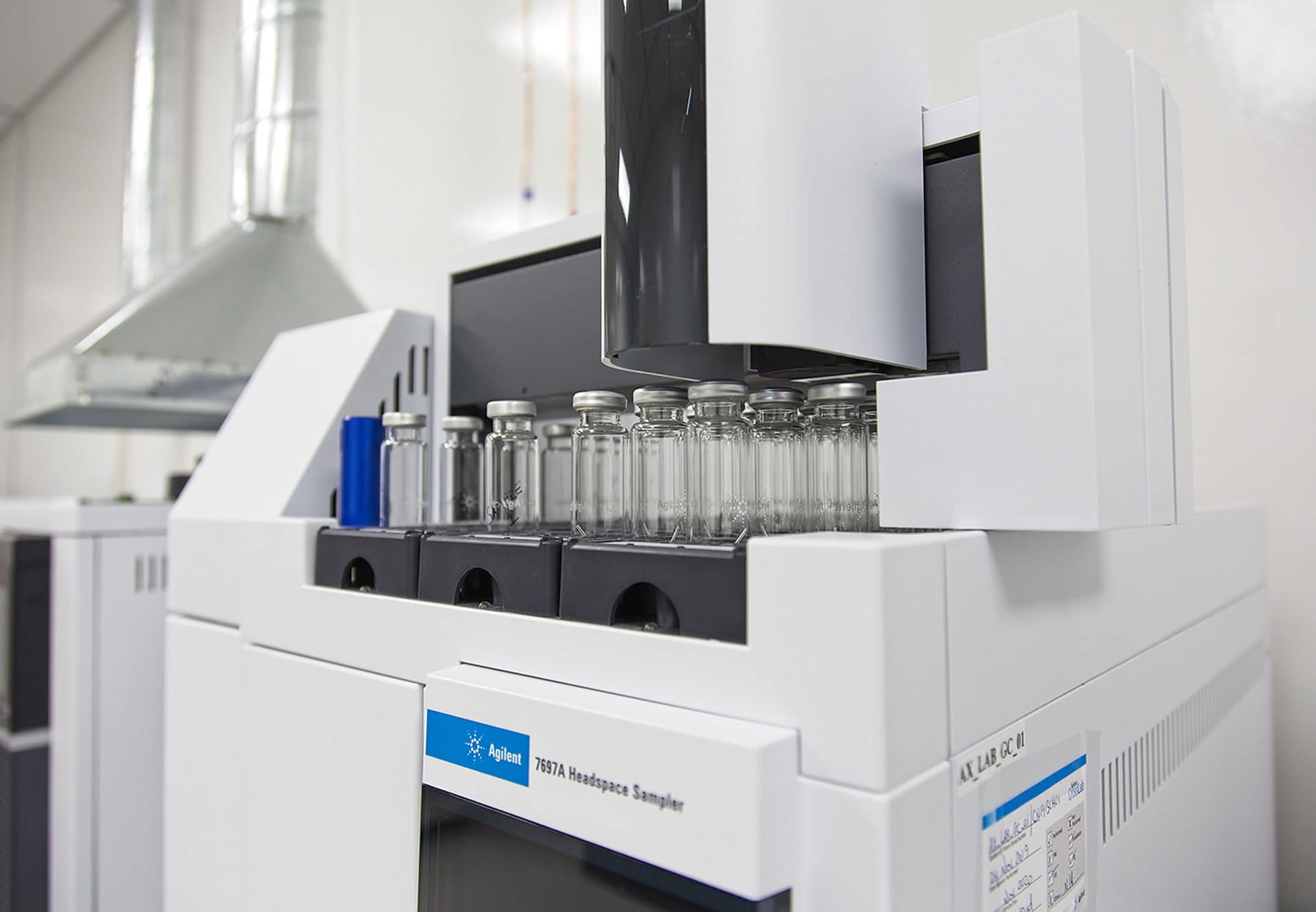 Our Procedures
At AX Pharmaceutical Corp, we are committed to maintaining current good manufacturing practices (cGMP) and current good laboratory practices (cGLP) to service our customers with the value they deserve.

Our Standard Operating Procedures include:
5.1 SOP for Receipt of Raw Material and Packaging Material
5.2 SOP for Ordering, Receiving, Release and Shipping of Controlled Substances
5.3 SOP for Recording of Temperature and Humidity of Storage Area for Raw Materials
5.4 Collection and Storage of Raw Materials for Sample Retention
5.5 SOP for Rees Scientific and Centron Cloud Services
5.6 SOP for Testing and Release Rejection of Raw Material and Packing Material
5.7 SOP for Security Directive of Controlled Substances
5.8 SOP for Loss or theft of Controlled Substances
5.9 SOP for Entry and Exit in Quality Control Laboratory
5.10 SOP for Gowning Procedure and Entry Exit to Clean Room
5.11 SOP for Preventative Maintenance of Equipment and System
5.12 SOP for Cleaning and Disinfection
5.13 SOP for Operation of Bio-Safety Cabinet
5.14 SOP for Safety in QC Laboratory
5.15 SOP for Training Procedure
5.16 SOP for Vendor Qualification
5.17 SOP for Handling of Complaint
5.18 SOP for Change Control
5.19 SOP for OOS
5.20 SOP for Stability Study of API's
5.21 SOP for Annual Product Quality Review
5.22 SOP for Self-Inspection and Quality Audits
5.23 SOP for Good Documentation Practice and Approvals
5.24 SOP for Handling of Deviations
5.25 SOP for Handling of Returned Goods
5.26 SOP for Recall Procedure
5.27 SOP for Inventory Control
5.28 SOP for ID Testing After Repackaging
5.29 SOP for Controlled Substances Repackaging Batch Records
5.30 SOP for API Assessment
5.31 SOP for Requirements Traceability Matrix
5.32 SOP for Pest Control
5.33 SOP for User Requirement Specifications
5.34 SOP for Functional Requirement Specifications
5.35 SOP for Sampling Procedure
5.36 SOP for Labeling Control
5.37 SOP for Repackaging Batch Records
5.38 SOP for Batch Code Generation
5.39 SOP for Shipment Packaging Procedure
5.40 SOP for Risk Management Policy and Procedures
5.41 SOP for Transcription of Certificate of Analysis
5.42 SOP for Environmental Monitoring for Cleanrooms
5.43 SOP for Warehouse Management
5.44 SOP For Training Laboratory Personnel and Competency Management
5.45 SOP for Supply Chain Risk Assessment
5.46 SOP for Procedures and Template
5.47 SOP for Issuance of Logbooks and Notebooks
5.48 SOP for Password Policy, Backup and Restore for Analytical Data in Computer Systems
5.49 SOP for Waste Disposal
5.50 SOP for Cleaning and Storage of Glassware
5.51 SOP for Storing and Handling of Laboratory Reagents
5.52 SOP For General Laboratory Cleaning Procedures
5.53 SOP for Handling Volumetric Pipettes
5.54 SOP for Operation Maintenance and Calibration of the Traceable Kangaroo Thermometer
5.55 SOP for Good Laboratory Practices
5.56 SOP for Glassware Calibration
5.57 SOP for Calibration Operation and Maintenance of Mettler Toledo Seven Excellence S400 pH meter
5.58 SOP for Temperature and Humidity Control of the QC Lab
5.59 SOP for Magnetic Stirrer with Hot Plate
5.60 SOP for Instrument's Calibration Program in Quality Control Laboratory
5.61 SOP for Trend Analysis in Quality Control Laboratory
5.62 SOP for Quality Control Laboratory Data Compliance
5.63 SOP for HPLC Receipt Checking and Regeneration
5.64 SOP for Data Integrity Assessment
5.65 SOP for Operation and Maintenance of Agilent Cary 630 FTIR Spectrometer
5.66 SOP for Operation and Maintenance of Mettler Toledo XPE205DR Analytical Mass Balance
5.67 SOP for Operation and Cleaning of Ultrasonic Bath
5.68 SOP for Operation and Calibration of Sartorius Arium Comfort I Water Purification System
5.69 SOP for Safe Handling and Storage of Compressed Gases
5.70 SOP for Operation of Rocker 300C Oil Free Vacuum Pump and Filtration Apparatus
5.71 SOP for Preparation of Reference Standards Reagents and Volumetric Solutions
5.72 SOP for Operation and Calibration of Agilent 1260 Infinity II LC_MS system
5.73 SOP for Operation and Maintenance of Mettler Toledo Melting Point
5.74 SOP for Operation Maintenance and Calibration of VWR Gravitational Convention Oven
5.75 SOP for Operation and Calibration of Thermo Stability Chambers
5.76 SOP for Operation and Calibration of GENESYS 10S UV Visible Spectrometer
5.77 SOP for Validation Master Plan
5.78 SOP for Handling and Maintenance of Desiccators
5.79 SOP for Operation Calibration and Maintenance of UV Viewing Cabinet
5.80 SOP for Receipt, Handling and Storage of Raw Material Samples for QC Testing
5.81 SOP for Administrative Operation of FTIR Cary 630 Workstation AX_LAB_PC_01
5.82 SOP for Operation and Calibration of Agilent Intuvo 9000 GC with 7697A
5.83 SOP for Administrative Software Operation of Openlab CDS V2.4
5.84 SOP for Preparation of HPLC Mobile Phase
5.85 SOP for Validation of Reference Standards
5.86 SOP for Analyst's Notebook
5.87 SOP for Operation and Maintenance of HemcoFumehood
5.88 Operation and Maintenance of CrushIR 15 Ton Hydraulic Press
5.89 SOP for Administrative Operation of Mettler Toledo Melting Point MP70, PH Meter S400 and Analytical Balance XPE 205DR
5.90 SOP for Purchasing and Invoicing for Quality Control Department
5.92 SOP for Operation and Calibration of Rainin Pipet-Lite XLS+ Manual Pipettes
5.93 SOP for Maintenance and Operation of Generac Generator
5.94 SOP Operation and Maintenance of Thermo Scientific Sorvall ST 8/8R Centrifuge
5.95 SOP Controlled Substances Password control and key control for vault and cage
5.96 SOP for Controlled Substance Destruction
5.97 SOP for Transportation of Controlled Substances
5.98 SOP for Controlled Substances Annual Report
5.99 SOP for Controlled Substances Changes to Personnel and Security Measures
5.100 SOP for Suspicious Transactions of controlled substances
5.101 SOP for Receipt, Handling and Storage of Controlled Substances in the QC Lab
5.102 SOP for Set Up and Operation of Abderhalden Vacuum drying apparatus
5.103 SOP for Operation and Calibration of the ThermPro Humidity and Temperature Monitor
5.104 SOP for Operation and Calibration of the Ohaus Balances
5.105 SOP for Issuance and Maintenance of Quality Assurance Logbooks
5.106 SOP for Operation and Maintenance of Mettler Toledo Titration Excellence T5
5.107 SOP for Administrative Operation of LabX v 12.0.0
5.108 SOP for Operation and Calibration of the Timer
5.109 SOP for Packaging Material Equivalency Evaluation
5.110 SOP for Qualification of External Laboratory Operations
5.111 SOP for Controlled Substances Inventory Control
5.112 SOP for Controlled Substances Customer Purchase Order Verification
5.113 SOP for production Department Quality Responsibility
5.201 SOP for Receiving of Raw Material for Broker Trader operations
5.202 SOP for Broker Trader Shipment Procedure
5.203 SOP for Vendor Qualification for Broker Trader Operations
5.204 SOP for Quality Assurance and Quality Control Roles and Responsibilities
5.206 SOP for Qualification of 3PL Service Operations

Process-Driven Commitment
From manufacturing and testing to packaging and shipping, we work hard to uphold the safety, reliability and uninterrupted access to raw pharmaceutical materials through structured processes, vigorous quality control testing and compliant record-keeping.
State-of-The-Art Technology
Our facilities are equipped with state-of-the-art laboratory equipment to identify, inspect and verify the safety of imported active pharmaceutical ingredients (APIs). With multi-point inspections, each product is carefully tested and reviewed by a series of our licensed specialists.
Industry-Leading Experience
Since 2013, our team has grown to include a wide variety of experienced specialists. With diverse backgrounds in manufacturing, testing and research-related fields, our laboratory staff provide a unique multidisciplinary approach to the quality and safety of our products and services.
Commit to Integrity with High-Quality Solutions.
At AX Pharmaceutical Corp, we pride ourselves in our rich multidisciplinary approach to pharmaceutical solutions.

With a focus on quality and integrity, our QC and QA departments work hard to ensure the highest quality in API testing for pharmaceutical manufacturers and compounders all around the world.

If you are interested in learning more about our products, services and/or Quality Control procedures — our licensed specialists are available to address your requests within 24 hours.

Explore the integrity with pharmaceutical solutions you can trust.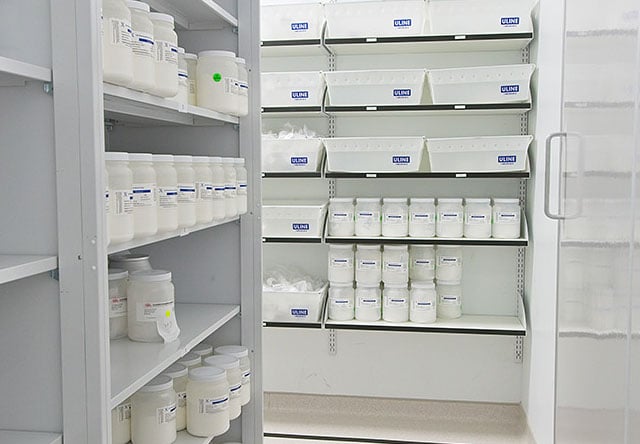 Find a Product
With a vast inventory of high-quality API's, our products are available for shipping by the following business day.

If a product you seek is not currently on our list, please contact us and we will strive to source it from our qualified manufacturers and vendors.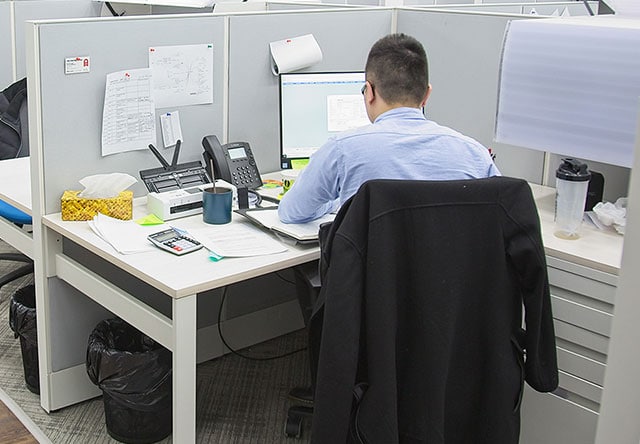 Consult with Specialist
Our in-house consultation services are designed to help our customers identify their personal pharmaceutical needs, investigate Out of Specifications and/or develop customized solutions to better service your customers.

With a shared commitment to the quality of medical products distributed, we are happy to provide reliable, uninterrupted access to high-quality APIs.
Become a Customer
Access. Integrity. Support.

With access to our online portal, our customers are connected to a global selection of raw materials where they can order, track and review their purchase history at any time.

From ongoing support and fast-deliveries to competitive pricing and quality assurance - we are committed to providing uninterrupted access to high-quality APIs.